Leaflet for Bibles
Free bibles are left in hotel rooms and lots of other places by people who think of the bible as "the good book".1 Would you like a simple way to let the world know what makes the bible far from good? How about a free, simple pamphlet (or brochure or leaflet) you can easily slip into any bible?

Here is a free, downloadable leaflet (actually there are four leaflets per page) that you can use as is or modify as you see fit. Carry a few of these and a glue stick in your suitcase so you're always prepared. Use the leaflet and the information on this web page at your own risk.

The leaflet contains the following text:

======
Teachings of the Bible
The kingdom of God should have come to earth before Jesus's disciples died (Mark 9:1)
A loving God (John 4:8) ordered genocide (Numbers 31:17)
Women should keep silent in church (1 Corinthians 14:34)
Parents must love Jesus more than their own children (Matthew 10:37)
A loving God (John 4:8) killed thousands of firstborn children (Exodus 12:29)
======
Richard Dawkins Quote (From The God Delusion)
"The God of the Old Testament is arguably the most unpleasant character in all fiction: jealous and proud of it; a petty, unjust, unforgiving control-freak; a vindictive, bloodthirsty ethnic cleanser; a misogynistic, homophobic, racist, infanticidal, genocidal, filicidal, pestilential, megalomaniacal, sadomasochistic, capriciously malevolent bully."
A Lovely Picture of the Flying Spaghetti Monster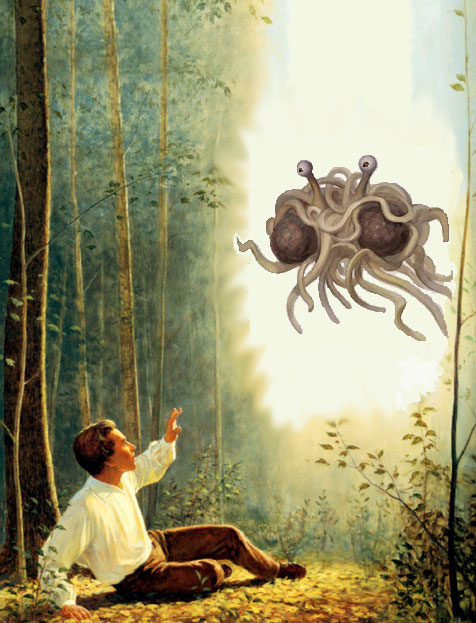 1 Gideons International is primarily responsible for the bibles you find in some American hotel rooms. As Roya Wolverson has reported in a recent article, however, "since 2001 the number of luxury hotels with religious materials in the rooms has dropped by 18 percent".